Uniting Families and Community for Delaware
Delaware's rising overdose rates combined with increased treatment recidivism highlights the huge need for healing statewide. Connecting, acting out of love, building healthy relationships, and engaging with existing resources fosters a solution-based culture. Consistent collective contributions will make an improved level of substance addiction treatment a reality for the First State.
March 1st 2021 @ 7:00pm – 8:00pm
Monthly Community Meeting
The Journey Church
Firm Foundation Recovery is a Delaware based 501(c)(3) nonprofit charity organization focused on improving the level of care for substance addiction. Our primary mission is to provide our long term treatment model to heal the root causes of addiction in our state. A 3-6 month adult recovery center, 6-12 months of transitional living, and a work program will make up our continuum of care. Our board of directors and the community will meet in the cafe of The Journey Church the first Monday of every month at 7pm. Following all safety guidelines everyone will introduce themselves, and the board of directors will deliver an update and answer any questions. At 7:30 we will begin break out tables for fundraising, events, marketing, and facilities. From 7:30 to 8:30 we will also have an optional Strength In Recovery Christian 12 step support group available in the impressions room. This for Delaware by Delaware mission was born out of an enormous need and the speed of the mission will be determined by the contributions of the people. If you are struggling or are a family member of someone struggling come out for support. If you want to contribute to the mission with the Grace given to you come out to help Delaware. Masks required
Hoops For Help
76ers Fieldhouse/Facebook Live
In partnership with The 76ers Fieldhouse in Wilmington we are hosting our Hoops For Help 3 on 3 basketball tournament for healing in Delaware. Over 30 different teams will represent recovery advocates, organizations, treatment providers, and Chuches. Over 30 different organization vendor tables will surround the courts on tournament day. Delaware will hear live from each organization that's represented. They will explain their program, investment in Delaware's recovery community, and commitment to unity moving forward. This is a double elimination tournament with games to 11 points and all participants 14 and up. The action on the courts will be focused more on fun and fellowship than stiff competition. Tournament sponsors are providing amazing prize packs, trophies, and medals to be awarded to the top 3 finishers. The Fieldhouse has an approved Covid -19 safety protocol including masks 😷 at all times. Everyone attending in person is required to fill out a waiver and standardized screening assessment online before entry into the facility. We continue to adjust and move forward together to improve the level of care for substance addiction in our state. Join us for this online event to assist in healing our communities one recovery at a time!
Healing Communities One Recovery at a Time
Our intentional events strengthen the relationship dynamics of family and community. Inviting existing Delaware nonprofit organizations and recovery resources to fellowship will begin bridging the gap and foster unity. Together, acting out of love and service, a culture of healing and growth towards God will become a reality.
We Will Heal Together
Every donation brings us closer to purchasing property, building our facility, and opening our doors for so many in need.
Featured Foundation Partners
Volunteer Program
The speed of Delaware's healing mission is determined by
community participation. We are all gifted with a unique grace from God. Contact us to get involved today
Partners
All individuals, organizations, and businesses willing to unite in
service for healing are Delaware's recovery partners. We are designed to grow together
Foundations Needs
Event Planning Committee
Media/Marketing Committee
Fundraising Committee
Mission Tables
Facilities Committee
A Look At Firm Foundation
A converted single-family home set on 2-10 acres in Kent County will serve as the main clinical and
pastor offices, gathering area, and dining hall. Two separate housing units for men and women will be constructed. Our transitional homes will be purchased after the opening of our main recovery center.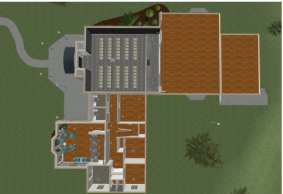 Get in Touch. Get Involved.
We live, heal, and grow together in honest fellowship. We gain gratitude for our community. We become invested in the place that has helped us. We stake our claim in our community by working hard to maintain the gifts that we received. Nothing is given, we earn what we get, and ultimately serving the next man becomes our hearts desire.